It is unclear how long the remote work mode will last due to the coronavirus pandemic. We would like to tell you how not to go mad in new conditions and work as efficiently as possible.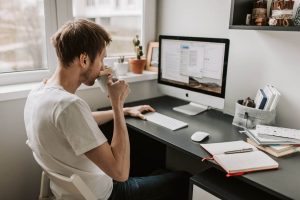 Pros of remote work
The first thing that immediately becomes noticeable is that travel costs are reduced. You save both money and time. If you had to commute to work for a long time, your sleep quality suffered. And a sleepy employee is unlikely to be effective.
Also, the office environment is a source of stress for some people. There may not be enough light or air. Someone is stuffy, but someone is blowing. And sometimes you want to work in silence to get into the state of flow as much as possible, but you cannot silence all colleagues at a click.
Another plus is the ability to choose a comfortable work rhythm. If necessary, you can take a break or break the work into stages
For many, an undoubted advantage is the opportunity to spend more time with their relatives. Family is very important to a person. Time that was previously spent on the road can be spent with children.
Cons of remote work
Self-control problems. If you like to go to social networks at any free moment, you will have to quit. After all, you are at work.
Many people like to be constantly among people. Well, no one canceled conversations during lunch breaks. And forced isolation can be stressful.
The main disadvantage of business is the lack of well-built communication. Many companies are in a panic because of this. But this is a completely solvable problem.
How to work effectively at remote work
Set up your workspace. Better to allocate a separate room with a table. Everything you need should be at hand. Place the shortcuts for the programs you need on your desktop. Add all the necessary Internet
Be in touch during business hours. Open messenger and turn on notifications. But if you are focused on a serious task, give advance notice so that you will not be disturbed during certain hours.
Take breaks. Productivity will suffer if you don't rest. During breaks, you can do physical exercises, drink tea, just sit in silence. At such moments, an unexpected solution to a problem may come to you, over which you have been thinking for a long time.
Observe the regime. Working from home is not a vacation. We insist that you also need to go to bed and wake up at the same time. Remote work is about discipline. Self-control is an important skill for effective work.
Be sure to write a plan with tasks for the day every morning. This will allow for better load distribution. In general, it is important to understand what you will be doing. Break large tasks into smaller ones to make it easier to complete.
Keep in touch with colleagues. Chat in the messenger, call up. You don't have to become an asocial person.
Create motivation for yourself. Reward yourself for completing challenging tasks with something you love.